US WTI crude chalks in a new ten-month high on Tuesday.
US shale production to decline more than expected.
Oil firmly bullish, aiming for $100.
West Texas Intermediary (WTI) crude oil barrels briefly peeked over the $93.00/bbl level in Tuesday trading. Oil is trading steadily higher as supply constraint worries send investors scurrying, sending the price of crude barrels soaring.
US shale production to slow further, oil markets squeezed higher
The Energy Information Agency (EIA) is warning that US shale production is set to decline further in October. The EIA's Drilling Productivity Report has shale slated to produce 9.393 million bpd, the lowest level since May of this year.
Crude prices have been facing an enormous squeeze ever since Saudi Arabia and Russia announced extensions of their 1.3 million bpd production cuts through the end of the year. WTI crude prices have risen 15% in just four weeks as oil traders fear a global supply snap.
The global oil supply chain is expected to see a 2 million bpd deficit heading into the first quarter of 2024. With such a sharp deficit, global oil reserves are expected to dwindle away to nothing unless additional crude production projects are fired up and capacity is restored.
WTI technical outlook
WTI has closed in the green for ten of the past twelve straight weeks, and is knocking ten-month highs as crude gets pushed higher. US oil briefly saw the north side of $92/bbl, beore settling back to sub-$91.50/bbl.
On the daily candlesticks, there's plenty of room for crude to run, with prices neatly breaking the 200-day Simple Moving Average (SMA) back in July, which currently rests near $77/bbl.
Further upside will see oil prices testing $92.50, a level that has seen significant rejection in the past.
On the low side, support is coming from the 34-day Exponential Moving Average (EMA) near $84/bbl, with the near-term floor priced in at the last swing low of $78/bbl in mid-August.
WTI daily chart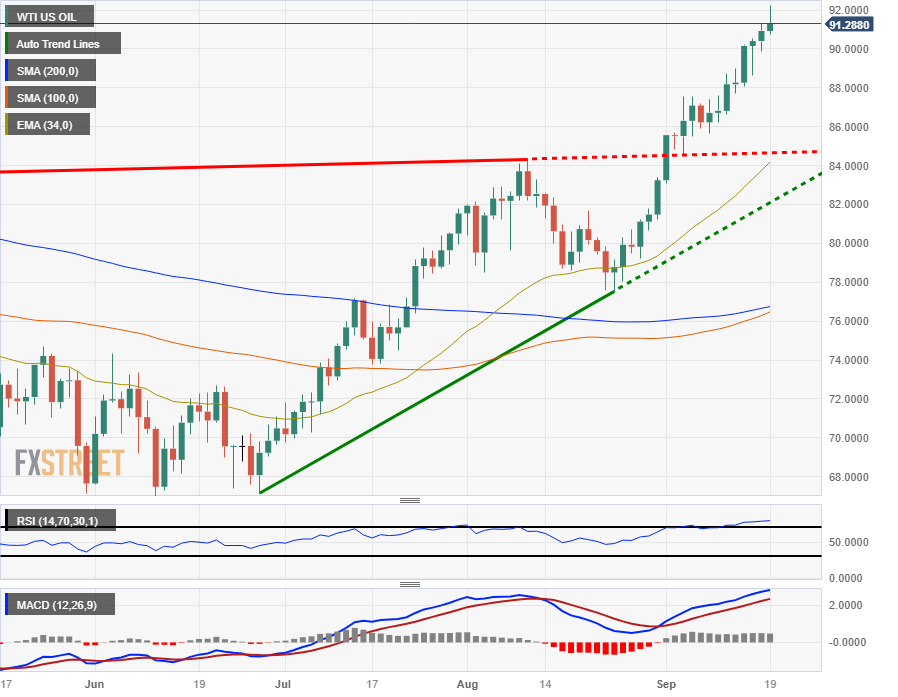 WTI technical levels