Analysts are trained to see charts and markets in terms of possibilities: there are thousands of ways the market could move, and they try to know and study them all.

Traders, being closer to the action, must look at things differently. For them, the markets and the charts are full of opportunities - out of those thousands of ways the market can go, they are interested in those areas and moments offering a window of opportunity.
Today, Gold is giving us a rather interesting picture, which I would like to discuss with you today. Possibility or opportunity? I let you be the judge of that.
Gold is currently displaying a price action pattern very similar to that before the Sep.2 breakout. We are in a downward channel of about the same amplitude and duration, we are at the exact same horizontal key level and price has already pushed up into a first wave test at the key level. Could a similar scenario output happen, or could we expect that this time bears have learned their lesson?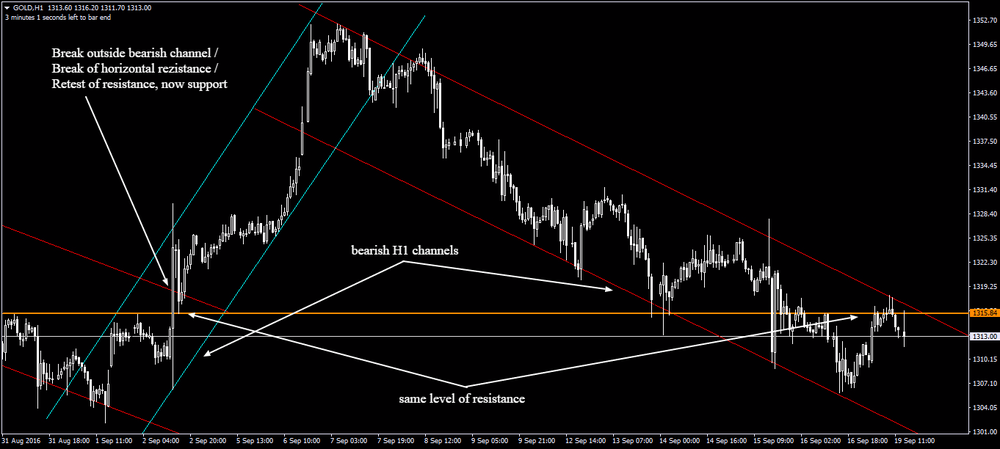 Scenario/possibility 1 (Bullish): Gold could rise rapidly into a steady, powerful breakout to the upside. Opportunity: longs could be taken above the resistance line which (if history is any guide) could again turn into support after the breakout.
Scenario/possibility 2 (Bearish): Gold could remain bound within the same downward channel, or could spike up for a false breakout. Opportunity: in this case shorts would continue to be favored, and especially in the case of a false breakout bears will look for new lows withing the next 1-2 days.
What about you? Ideas? Comments? What is your outlook for Gold for the next few trading sessions?