A rather unwieldy market of the current week, at which even mostly overbought assets of the fast-recovering banking sector just rolled back submissively to some lower levels despite their positive Q4 financial reports, were pleasantly surprised by high-flying Netflix shares again. The largest streaming service in the world set another record on its global paid membership of more than 203 million subscribers.
The last-quarter figure bounced back to top 8.51 million new customers over this period which included holidays and lockdowns, so people spent a lot of extra time at their homes. Netflix new-comers made a temporary "pause" to reach as low as 2.2 million new subscribers who registered on the service in Q3, 2020. Previously, Netflix added 15.77 million subscribers in Q1, 2020, which included the impact from the initial COVID-19 lockdowns, plus more than 10 million in Q2, 2020.The official CEO's forecast for Q1, 2021 is about 6 million new devotees. The weekly global paid net adds of new consumers are represented in Pic 1.
Pic 1. Netflix: Weekly Global Paid Net Adds Year to Date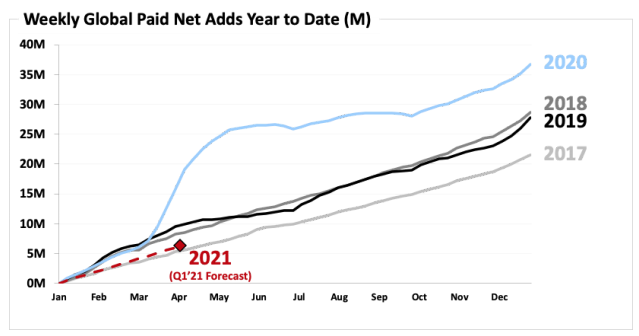 Source: Netflix own estimates

The Netflix stock (NFLX) finished a regular session on Tuesday at $501.77, which was $73.6 below the very historical high shown on July 12, 2020, but then it quickly surged 13.35% to $568.78 in after-hours trade. Investor and financial analyst Jani Ziedins quite reasonably wrote for Cracked.Market: "NFLX had two disappointing earnings reports [for Q2 and Q3 2020]…and the stock tumbled -6.5% and -6.9% the day after each earnings report. Yet here we stand, still within 10% of all-time highs. Bad news and a resilient stock? That's a textbook case for a stock that wants to go higher. Anything that refuses to go down will eventually go up. And right now, NFLX is acting like it wants to go back to the highs". The step-by-step reaction of Netflix shares to the reports for the last three quarters is shown in Pic 2.
Pic 2. Netflix daily chart with the reaction on Q2, Q3 and Q4 reports for 2020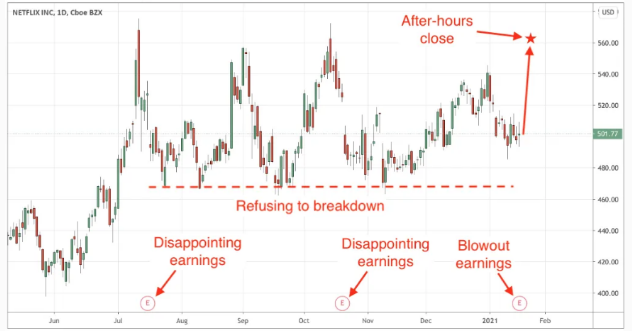 Source: Cracked.Market

Indeed, two disappointing quarterly reports in a row made the market's expectations inevitably low. So, Netflix investors came into this earnings season with much lower expectations, which allowed the company's CEOs to beat low expectations easily. Market cap may continue to go even higher on this fuel, even though earnings came in lighter than expected at $1.19 per share vs $1.74 per share in Q3 2020, and it was the lowest equity per share (EPS) readings since the summer of 2019, as the company is now concentrating all its efforts on spending money for new projects and aspiring to develop more connections with new users throughout the world.
As for the content, the Netflix' largest original film of the quarter was The Midnight Sky, starring and directed by George Clooney. According to the estimates of the company, at least 72 million households may choose to watch this title in its first four weeks. Also, in its first 28 days, 43 million families chose to watch their animated feature film Over the Moon. We Can Be Heroes was another successful family premiere which is expected to have reached 53 million households. The holiday movie genre also resonated with the hearts of more than 60 million subscribers including Holidate (starring Emma Roberts) and The Christmas Chronicles: Part Two (starring Kurt Russell). Netflix's first experience with a Portuguese language holiday film from Brazil, Just Another Christmas also became a big hit with 26 million households globally choosing to watch it in the first 28 days of its release.
"For the full year, our 37 m[illions] paid net additions represented a 31% increase from 2019's 28 m[illions] paid net adds. We're becoming an increasingly global service with 83% of our paid net adds in 2020 coming from outside the UCAN [United States and Canada] region. Our EMEA [Europe, the Middle East and Africa] region accounted for 41% of our full year paid net adds, while APAC [the Asia-Pacific region] was the second largest contributor to paid net additions with 9.3 m[illions] (up 65% year over year)," Netflix wrote yesterday in its shareholder letter.
And it was a really great result taking into account that 2020 was an incredibly difficult year with extraordinary loss for so many families, new restrictions that none of us have ever had to live with before and great uncertainty.
Since the start of 2018, Netflix paid memberships have risen from 111 million to the current 203.66 million and the average revenue per membership has grown from $9.88 to $11.02, despite significant forex headwinds as the company has a Euro denominated debt burden, and EUR/USD is now trading above 1.20. So, Netflix is becoming cash-flow positive even if all the balance of factors are taken into account. "This approach has allowed us to organically increase revenue by $4-$5 billion annually over the past several years," another excerpt from the shareholder letter states. In the fourth quarter, the company said its current liabilities for content were $4.429 billion, up slightly from $4.413 billion in the quarter from a year ago, while its non-content related liabilities came in at $2.6 billion this quarter. However, the huge cost to develop or license original content is probably not a source of worries for the numerous investing audience of Netflix.
Disclaimer:
Analysis and opinions provided herein are intended solely for informational and educational purposes and don't represent a recommendation or investment advice by TeleTrade.