On Monday, markets were woken from a nap by an unexpected welcome surprise. With one accord, and for a few hours, the trading community even seemed to have entirely forgotten all the threadbare media refrains concerning the U.S. election agenda. A set of major European indexes soared by five to seven percent, quickly starting to storm all of their respective multi-month top levels, with the French CAC40 exceeding the best summer quotes, and the U.S. broad market S&P500 index even hit its new record all-time highs.
The reason for such agitation was the fresh and really breakthrough results of an anti-COVID vaccine. Headquartered in New York now and founded by German-Americans, a well-reputed pharmaceutical corporation called Pfizer, in cooperation with its close partner, a German bioengineering company BioNTech, declared their experimental COVID-19 vaccine was more than 90% effective on the third and final stage of trial results. There are still some questions to be answered surrounding the matter, such as, how long is immunity expected to last, but the base information was that Pfizer expects to seek U.S. emergency use authorisation for people aged 16 to 85 as soon as November.
By the way, the skills of Pfizer Co were applied to the mass penicillin production during World War II in response to the need to treat injured Allied soldiers, and most of the penicillin that went ashore with the troops on D-Day was made by Pfizer. And now it seems that the company is going to save lives and economics against the harmful coronavirus. "I'm near ecstatic," Bill Gruber, one of Pfizer's top vaccine scientists, said in an interview. "This is a great day for public health and for the potential to get us all out of the circumstances we're now in." Peter Horby, professor of emerging infectious diseases at the University of Oxford, commented: "This news made me smile from ear to ear. It is a relief to see such positive results on this vaccine and bodes well for COVID-19 vaccines in general."
The scientists just need to wait for the finish of a follow-up safety data to assure no side effects crop up, and the necessary results are expected to be available in the third week of this month. Alex Azar, U.S. Health and Human Services Secretary, remarked it would take several weeks for U.S. regulators to receive and process the data before a potential approval. If it would be granted, companies estimate they can roll out up to 50 million doses before the end of 2020, enough to protect 25 million people with 2 necessary injections, and then their plan is to produce up to 1.3 billion doses in 2021.
Ursula von der Leyen, the head of the EU Commission, happily tweeted: "European science works! @EU_Commission to sign [a] contract with them soon for up to 300 million doses. Let's keep protecting each other in the meantime." By the way, the European Commission currently has three contracts for the purchase of other potential coronavirus vaccines with AstraZeneca, Johnson & Johnson and Sanofi-GSK.
"A major breakthrough in the development of a coronavirus vaccine could deliver a vital boost of confidence to consumers and businesses", the Bank of England's chief economist, Andy Haldane, said. "The economy may have reached a decisive moment," he added, as the vaccine could be a "game-changer". He cautioned that, of course, it would take several months for the vaccine to be rolled out but that it would have an immediate effect on sentiment, as it would mean an end in sight to the "endless stop-start-cycle" of all business processes helping to unlock investments.
This news and commentaries may not serve as instant coffee, which could immediately cheer up the entire world economy, at least because the subsequent approval of the vaccine does not mean that the vaccine will be distributed to everyone who wants it in a week or even a month. But the new situation has already brought visible relief to the markets, although most of the various assets and composite indices failed to hold their initial gains of Monday evening. The S&P 500 index closed yesterday near the 3,550 point level, where it was also located by European midday on Tuesday. This is about 120 points below Monday's peak, and the index price was approximately 35 points lower at some moments in Asian trading.
It seemed as if some share prices jumped for joy, like those of the Walt Disney Company, which rose more than 12% just after the opening bell. Walt Disney even traded above $147.50 for a short moment, which was just a little bit above the quotes of the beginning of February. Prices beyond $150 were last seen in December 2019, at non-pandemic times, and Disney never traded higher than that before. The House of Mouse' shares have been generally within a range between $115 to $130 since July, amid the unnatural but "new normal" social-distance obstacles that accompany the reopening of theme parks, which amounted to a third of all the cartoon empire's profit in previous years.
Disney-themed cruises and hotels were also thriving on shared group experiences and suffering a lot after the forced closure of the resorts. A long pause in the running of worldwide movie theatres also influenced the revenue. Disney shares were already doing much better even before the news about the vaccine, but now they were seen to be flying up with a kind of crazy enthusiasm, and the following price correction reached only a local intraday bottom in the $138 area, and the next move was above $142.50 again (see Pic 1).
Pic 1. Walt Disney weekly and monthly charts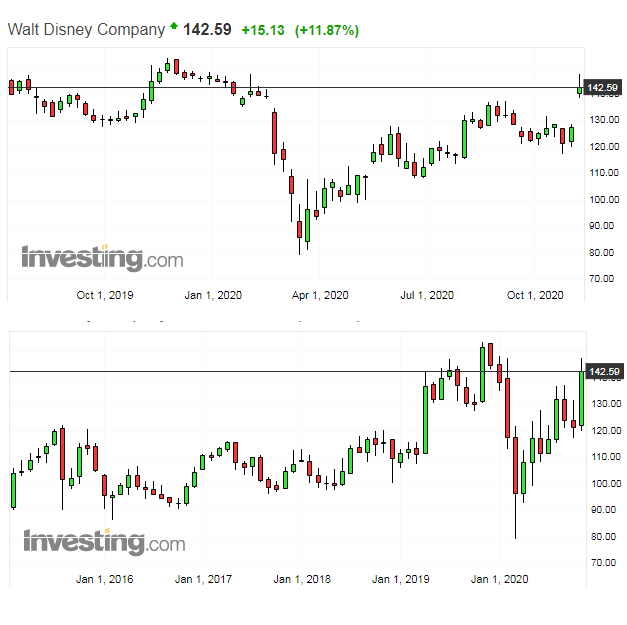 Source: Investing.com

Walt Disney is going to report its earnings for the fiscal 2020 fourth quarter, meaning the financial results of Q3, after Wall Street will close on Thursday, November 12. Analysts in numerous polls are expecting about $14 billion in Q3 sales on average and $0.73 loss per share. A bright spot in the upcoming earnings could be the number of subscribers on Disney's streaming service, Disney+, which may continue to benefit from the stay-at-home environment. But perhaps the most important thing to look at going forward is how investors will react to prospects that will arise after the pandemic is over. The financial results of Disney Co for the last three years are represented in Pic 2.
Pic 2. Walt Disney revenue and profit per share (EPS) results since 2018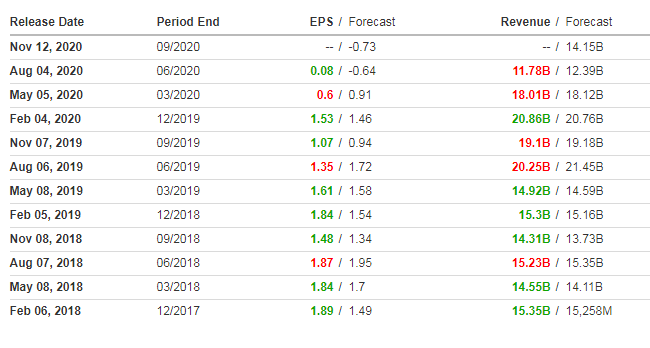 Source: Investing.com

Some other shares behaved in a more controversial manner after the perspective of their financial report changed after the news of the vaccine yesterday. . For example, the movements of McDonald's share price were very emotional and rather surprising if compared with the last financial report just published before Wall Street's Monday's trading session (see Pic 3).
Pic 3. McDonald's daily charts and some of its financial results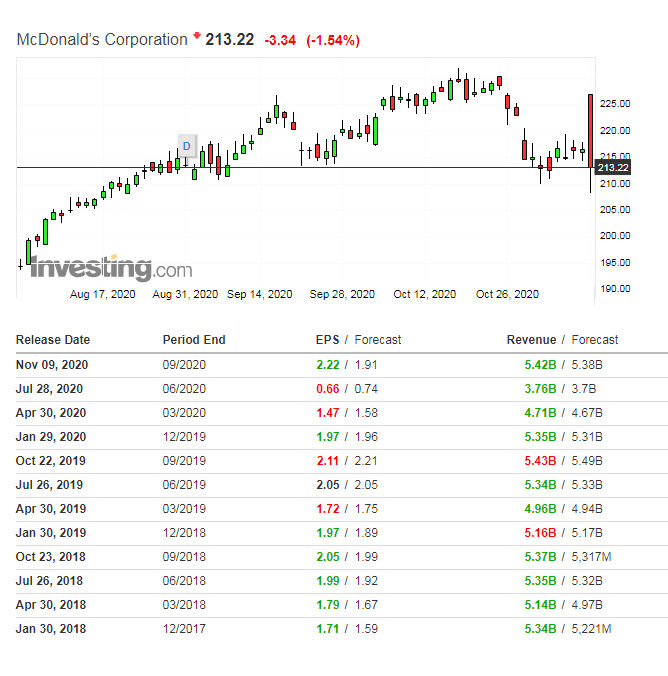 Source: Investing.com

The reported profit, in a form of equity per share (EPS), was $2.22, a historical record for McDonald's and much above the average expectations of just $1.91 per share. The company's highest EPS was at $2.32 in 2017 and its highest quarter revenue for this year stands at $5.42 billion. So, the shares' price started to trade with a large gap of $227 per share, but a mass profit taking process immediately loomed , so the price quickly fell by more than $10 lower and then even continued to dive, hitting a twelve-week low at $208.30. Then the situation on charts became more stable around the closing price of $213.22.
The fast food giant's massive network of drive-through locations helped to revive sales during the pandemic and on delivery apps orders when customers tried to avoid dining out during the pandemic. Now a positive effect of possible normalisation of life may play a role but rivals from the traditional restaurant segment will not fall asleep too. McDonald's CEOs said on Monday, they would test a "MyMcDonald's" digital loyalty program for customers to allow those who sign up to get tailored offers. Network restaurants are also planned to launch a new crispy chicken sandwich next year as it refocuses its long-term strategy after the pandemic. The world's largest burger chain plans next year to prioritise marketing, including new packaging globally with a "modern, refreshing feel and playful touches to unify branding in markets all over the world," it said in a statement.
In terms of financial figures, McDonald's repeated its own achievement in revenue for autumn 2019, which was already high. So, it reached its normal revenue level, since the fast food network showed approximately the same figures in three quarters out of four last year. The revenue figures now turned out to be the highest for any quarter in the previous three years, but throughout 2016 and 2017, McDonald's revenue figures were exceeded $6 billion in some quarters. Earnings per share were then lower; it ranged from $1.23 to $1.99 per share. That means sales structures have become more efficient since then. Such indication may allow forecasting a gradual movement to some higher targets for share prices in the next 12 months, provided that everything gets better with the COVID-19 situation.
At the same time, further price movements of all index futures prices deleted most of yesterday's gains. Many "big techs" even lost some part of their giant capitalisation over the course of Monday's trade, including Amazon (-5.06%) or the so-called "stay-at-home" shares like Netflix (-8.59%). The market may doubt if they were overestimated to some extent under the condition that the vaccine may push the general public to more offline-activity after several months. Against this background, The Nasdaq 100 high tech index continues to lose its value, while the S&P dynamics are mixed today. Hopeful about a better future, many investors seem to be gradually returning to the realities of this transient world, where many countries still have partial lockdowns and viral cases, and there would probably be the lasting tension around the U.S. presidential seat. Donald Trump is showing no signs that he will engage in any power transition.
Moreover, the sitting U.S. President unexpectedly replaced the head of the Pentagon. He tweeted that Christopher Miller, Director of the National Counterterrorism Centre, unanimously confirmed by the Senate at that position before, will be acting as Secretary of Defence. That information created a small turmoil in the market before the end of Monday's trade, as it may indicate Mr Trump's determination to strengthen the security forces for the case of street riots, for example, while his claims on alleged fraud with votes are considered by the court, and he announced that he has already formed the teams to pursue recounts in several states.
Disclaimer:
Analysis and opinions provided herein are intended solely for informational and educational purposes and don't represent a recommendation or investment advice by TeleTrade.