Even some of Donald Trump's close Republican allies or campaign advisers were stunned by the initial U.S. President's decision to stop any talks on the ill-fated financial stimulus bill with his Democratic opponents, after Trump said on Tuesday night that he would return to negotiations "immediately after I win" the election. This temporarily harmed American and global stock prices immediately as it happened just hours after the Federal Reserve Chairman Jerome Powell called for additional fiscal support to avoid what he said could become a "tragic fallout" for the U.S. economy. However, financial markets had not considered this shakeout and a one-month delay of the stimulus package to be such fatal obstacles, and so the S&P 500 broad market index fully recovered all its losses on Wednesday.
On the following day the market tried to climb higher, even before some totally new information officially appeared that Trump had changed his mind again and given his team the command to resume the stimulus negotiations. And by the midday on Friday, the S&P 500 futures were around the 3455 mark, almost 100 points higher than it had been trading at the start of the week, as the Treasury Secretary Steve Mnuchin and the House Speaker Nancy Pelosi resumed discussions after Trump changed the course by approving the negotiations again. "I shut down talks two days ago because they weren't working out," Mr. Trump said during a wide-ranging interview on Fox Business. "Now they're starting to work out," he resumed.
According to a tweet from Pelosi's spokesman, Mnuchin previously pressed Pelosi to pass a stand-alone measure to help the airline industry, just a week after the House Republicans blocked an attempt by Democrats to consider their version of a standalone airline bill, which called for a $500 billion investment in transportation infrastructure. Republican senators called it "partisan and too expensive".
On a very strange Tuesday night, just several hours after pushing for a pause till after the election in negotiations, Trump also asked Pelosi in another tweet: "If I am sent a Stand Alone Bill for Stimulus Checks ($1,200), they will go out to our great people IMMEDIATELY. I am ready to sign right now. Are you listening, Nancy?" This could greatly help individual taxpayers, and also Trump proposed that the Congress approve a $25 billion cost plan for airline payroll support plus a $135 billion for Paycheck Protection Program (PPP) for Small Business to avoid layoffs by the end of the year. But these more compact and simple plans were rejected by Democrats, as they insisted only on accepting the entire package of more than $2 trillion, and they didn't agree to any partial compromises. Even CNBC, that is usually not sympathetic to Republicans, said the Democrats' $2.2 trillion bill isn't a pure economic bailout program, but it does provide a lot of additional funds to the budgets of states run by democratic governors.
On the proposed checks for American households, Pelosi commented that it was "interesting that he said he'd send out those checks if we just sent him that bill because all he has ever wanted in the negotiation was to send out a check with his name printed on it." Both Pelosi and Mnuchin seem to agree to consider a separate bill for the aviation industry, but their positions on other points are unclear. Just a day ago Pelosi said in California that "there is no stand-alone bill without a bigger bill" even if it is a matter of the aviation industry salvation. Ms. Pelosi also told reporters on Capitol Hill on Wednesday that she had made it clear to Mr. Mnuchin that her willingness to consider an airline rescue measure was contingent on the administration's agreement to a broader stimulus plan. "We're happy to review what that stand-alone bill would look like, as part of a bigger bill, if there's a bigger bill," she said.
The prospect of a deal remains remote but both sides are worrying that voters may blame each of the parties for they are blocking financial aid for American companies and citizens. Trump's election rival Joe Biden immediately unloaded on Trump just after the acting president suddenly stopped negotiations. "Make no mistake: if you are out of work, if your business is closed, if your child's school is shut down, if you are seeing layoffs in your community, Donald Trump decided today that none of that - none of it - matters to him," said Biden. Some Republican congressional officials said it was unclear what Trump sought to achieve. And some expressed hope that the move was just a negotiating ploy. Or it could be an attempt by Trump to show his determination and righteousness to the voters, that he is ready to give money only for the proper purposes since the very agreement was not possible before elections.
In fact, Trump just wrote many times in his recent tweets almost the same words that Biden will "shutdown the economy at the tip of a hat", "close your police" and "raise your taxes", as Biden tax plan "would raise $4 TRILLION, more than twice the hike proposed by Clinton in 2016". To confirm his words about the shutdown, a new scandalous topic has emerged, on the decision by Governor Whitmer of Michigan state to "lock down her state for everyone, except her husband's boating activities", citing one of Mr Trump's fresh tweet published just several hours before. The federal law enforcement will now probably initiate an investigation on this matter, which could be important in one of the so-called "swing states". Michigan was won by Trump in 2016 but now Biden is leading there by five or even six percent, according to the polls. U.S. postal worker in New Jersey state was arrested, accused of dumping mail and election ballots, as another source of contradictions is connected with postal ballots counting.
According to the national polls, Biden is already more than 10% ahead of Trump. At the same time, Trump does not recognise the results of these polls saying on Twitter yesterday: "We are Winning Big, in the Real Polls, all over the Country!!!" and "THE FAKE NEWS MEDIA IS THE REAL OPPOSITION PARTY!" At the same time, the Gallup Poll has just come out with the finding that 56% of Americans said they are feeling better off today, even during a pandemic, than they were four years ago, so it's quite possible that these are Trump's hidden supporters that are shy to admit it in election polls, as the same effect was already observed at the U.S. elections four years ago. One way or another, the main election campaign is still ahead, and many things may change several times in the nearest weeks.
However, looking now at the charts of the U.S. and European indices and stocks, it is difficult to get rid of the notion that markets have perhaps already put all the political risks in current price ranges and are ready to pass all the tough political and pandemic "stress tests" to the very end. Markets are strongly supported by the "money printers" of central banks and also the belief that the economy has the strength to overcome all these turbulent storms. So, markets are high as if nothing special happened. As for the nearest future, Goldman Sachs maintains its forecasts for S&P 500 levels at as much as 3600 points for the end of 2020, and even at 3800 points at mid-2021 (see the Pic 1).
Pic 1. The S&P500 broad market index forecasts by Goldman Sachs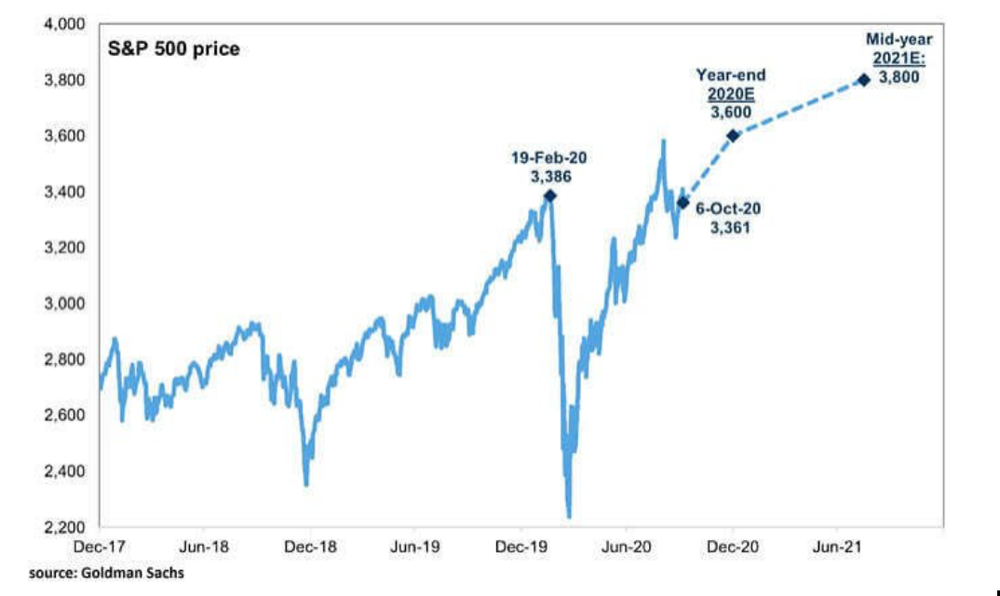 Goldman said inflows to the funds of "risky" assets outweigh the similar capital flows of funds into "safe-haven" assets (see the Pic 2).
Pic 2. Risky assets vs safe assets fund flows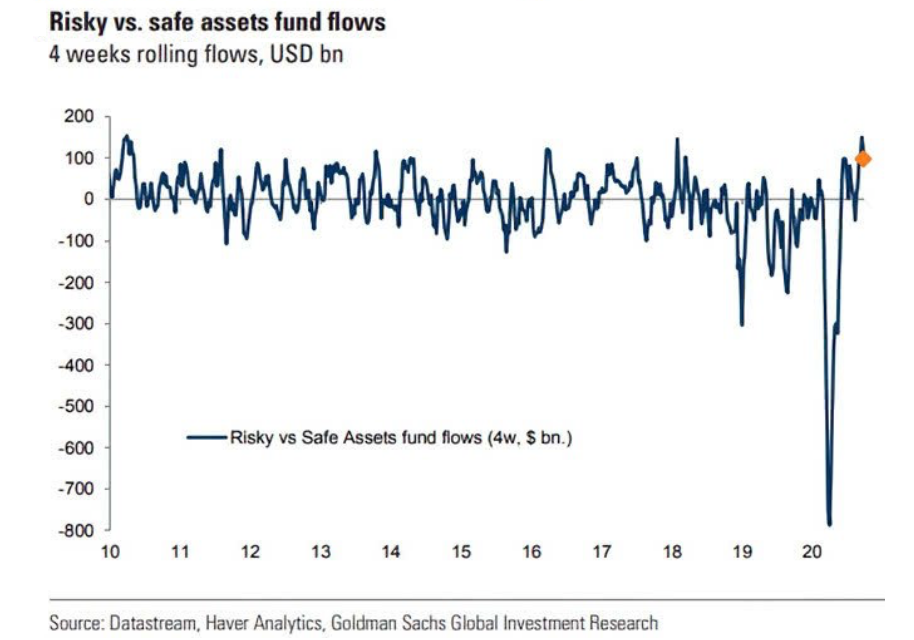 JP Morgan analysts also wrote they increased their long position volumes in U.S. stocks to 8% from the previous 6% just several months before, while they lessened their positions in the U.S. public and corporate bonds and in gold assets.
Against this background, the USD/CNY dropped to a fresh two-year low, as the Chinese currency strengthened immediately after the country's financial markets reopened after the Golden Week holiday. Probably, the market feels that the consensus in political and economic deals between the U.S. and China reached a point where even a change of administration in the White House won't change much.
Disclaimer:
Analysis and opinions provided herein are intended solely for informational and educational purposes and don't represent a recommendation or investment advice by TeleTrade.