Global stocks posted strong gains again in early Asia hours led by V-shaped optimists reacting on more signs of a further global recovery. Markets are hungry for yields and are not inclined to pay too much attention now to the chance of secondary virus outbreaks that could reverse the process. The US-Sino trade fears have been collectively pushed out of the minds, at least for the time being. The European Central Bank is also expected to ramp up its stimulative bond purchases after the governing council meeting on Thursday, which could bridge the gap until the European Commission's proposed 750 billion Euro recovery plan will start. Many investors are very happy that May readings of the Purchasing Managers Indexes (PMI) lifted itself off the floor in many countries.
The only big exception is India, which is still very weak both in service and manufacturing PMI components, but it has just started to come out of strict quarantine measures. At the same time, the pan-European manufacturing PMI is at 39.4 after its bottom 33.4, including the strongest Italian recovery to 45.4 from 33.1 in the previous month. French PMI was at 40.6 points, the contribution of Spain is at 38.3 and lagging German manufacturing PMI at 36.6 "temperature" level. The US ISM manufacturing index is at 43.1, and it didn't fall below 40 in the previous month, but its employment component is only at 32.1.
Chinese Caixin manufacturing PMI was published at 50.7 last weekend, and the Chinese service sector performed at 55.5, according to the official release on Wednesday morning. The service PMI in Germany showed 32.6 vs 16.2 in April, as services PMI in France was 31.1 vs 10.2 and the Italian service sector performance was at 28.9 after 10.8 and the similar Spanish data of 27.9 after the bottom of 7.1 in April. The UK services PMI is at 29 after 13.4 in April, and the US non-manufacturing business activity data is expected to be released later today.
In this regard, every day becomes more meaningful to look at promising corporate cases. Some special cases should be highlighted. As the number of acts of violence on the streets of American cities increases, a change in the value of stocks of some companies is observed, for example, Axon Enterprise shares rallied from $72.78 to $97.85 per share for the last three trading sessions in New York, which gave 46.5% year-over-year compared to the S&P500's 12% gain over the same timeframe. The company supplies body cameras, video recording software technology and tasers to law enforcement. Axon stocks experienced a similar surge in late 2014 after Michael Brown was fatally shot by police in Ferguson, Missouri, and his family campaigned for police officers to wear body cameras.
However, street riots have begun and, hopefully, will end sooner than later. Speaking about longer-term prospects, a fast start when it comes to the current situation that the Alibaba Group finds itself in should be mentioned. A well-capitalised e-commerce company with Chinese roots in the era of the pandemic is clearly not satisfied with the expanding niche in which the American Amazon giant is successfully growing. So, Alibaba adds more comfortable digital features for its business-to-business (B2B) customers as the pandemic boosted demand for online shopping and deliveries.
On Tuesday, Alibaba unveiled new financing and freight shipping services for small and medium-sized businesses. The international B2B arm of Alibaba.com is launching virtual "trade shows" for manufacturers and wholesalers based in the United States as part of what executives called "an effort to help American small-business customers deal with the financial fallout of the COVID-19 pandemic". Online Trade Shows USA by Alibaba would create more digital experiences where US-based wholesalers and manufacturers can meet new customers. The prospect of online trade shows represents a "pivot in how small businesses connect and engage," said John Caplan, Alibaba.com's president for North America and Europe. With digital options, they won't have to "invest three days and thousands of dollars to travel" to in-person events, he told reporters during an online presentation.
"Though the site is the company's oldest business, it operated for many years as more of a phone book for small businesses rather than a marketplace like Alibaba's better-known Tmall and Taobao consumer e-commerce platform," Emily Bary from MarketWatch remarked. In the fiscal year ended March 31, 2020, Alibaba reported a 17% year-over-year increase in revenues, to $1.4 billion, from Alibaba.com's international commerce wholesale business. "That's still tiny compared with Alibaba's core Chinese retail business, which racked up nearly $47 billion in revenue last year. But more than 10 million businesses are buying goods via the international wholesale platform," wrote Maria Aspan from Fortune.com.
Enlarging small-business sales has long been Alibaba's stated goal in the US market, which is very big and attractive but tricky for foreigners, as tariff tensions between Xí Jìnpíng and Trump's team have complicated the process of getting more American businesses to use the Chinese platform. But perhaps this time Alibaba.com's presentation has made many market participants believe in the shares of the Alibaba Group, which only yesterday rose on the New York stock exchange to $214.33 per share compared with the price of $206.57 at the close of trading on Monday. It is also noteworthy to mention that the Alibaba Group's shares have a good technical chance to form another technical bottom on the weekly charts with an interesting fact that each time it has jumped from the next bottom over the past two years, it then starts with even higher price support levels (see Pic.1).
Pic 1. Alibaba Group shares, technical signals on Weekly Charts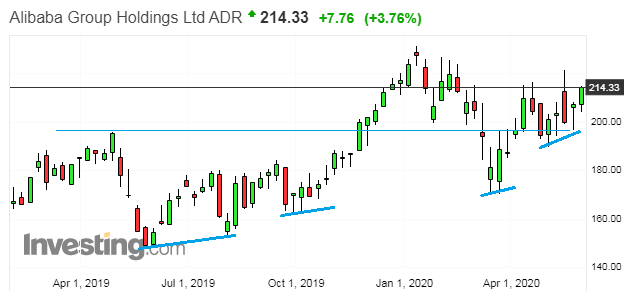 Source: Investing.com, TeleTrade own analysis
If the fundamental attempts of successfully growth in its business coincide with a technically favourable picture in the background of the overall rise in global stocks, then the gains of Alibaba shares could well exceed the previous historical record of January 2020, made at $231.14 per share, and may even move within the ascending price channel up to levels above $250 per share. On the other hand, if the faith of the market crowd fades, the shares will return again to the price area around the psychological mark of $200. But a painful failure for a long time is unlikely in the context of a rapid recovery of the Chinese economy and global demand for online commerce.
Disclaimer:
Analysis and opinions provided herein are intended solely for informational and educational purposes and don't represent a recommendation or investment advice by TeleTrade.