The S&P500, Nasdaq as well as French CAC40 closed last Friday at new records, and this week investors are focused on fresh earning reports of those limited number of companies which could still look fundamentally strong and technically more or less in uptrend, but still trading below their previous records.
Netflix is expected to release its 4Q2019 earnings report on January 21. According to barrons.com Netflix is expected to report 52 cents in earnings per share for the fourth quarter, up from 30 cents in the same quarter last year. Revenue is estimated at $5.5 billion, versus $4.2 billion a year earlier. Net new subscribers are expected to come in at 618,000 domestic and 7.2 million international. Netflix's guidance issued on Oct. 17 is for 51 cents in EPS, $5.4 billion in sales, and 7.6 million new subscribers.
According to official site Oscars.org (American Academy of motion picture arts and sciences), this year Netflix production scored 24 Oscar nominations which beat out Disney's 23 and Sony's 20 nominations. Netflix's nominations include Best Picture nominations for Martin Scorsese's The Irishman and Noah Baumbach's Marriage Story, Best Actor and Best Actress nominations for Adam Driver and for Scarlett Johansson in Marriage Story and for Jonathan Pryce in The Two Popes, Best Supporting Actor nominations for Anthony Hopkins and Al Pacino in The Irishman, along with many others.
Along with impressive last year recognition by Hollywood academics, Netflix has a powerful financial support, which is a major advantage versus competitors. Company's spending on production is at least twice bigger than the closest Amazon's.
Pic 1. Content spending is a Netflix strength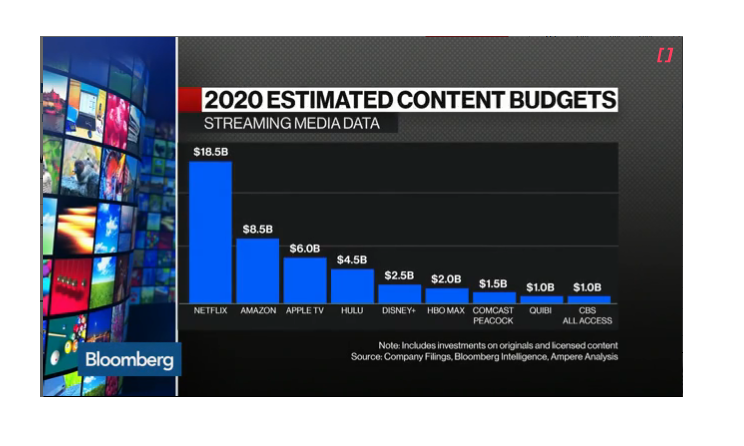 Source: Bloomberg
The cost of the monthly subscription of Netflix is $9 that is more than Disney's $7 and Apple's almost "discount" start price $5, but is the same as Amazon's $9 and less than HBO's $15.

Pic 2. Streaming costs (Netflix vs other competitors)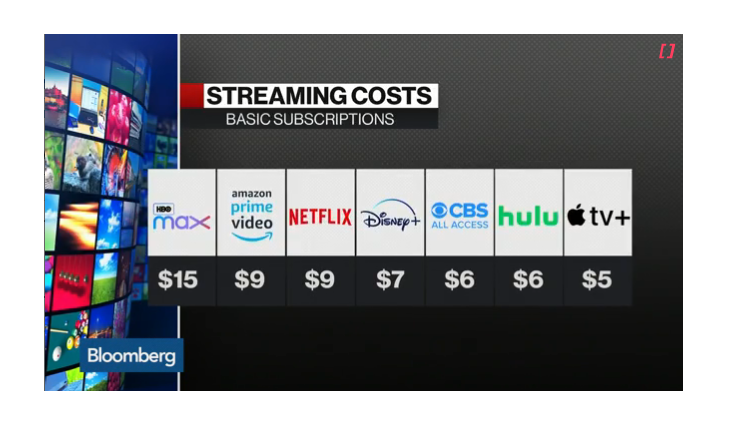 Source: Bloomberg

In the race of a crowded online streaming market Netflix performed quite well over the last five quarters when each of the quarter results outperform the previous one. Consensus forecast on Bloomberg for Q42019 is 5.45 billion of revenue, which is expected to be $0.21 billion above Q32019 and probably 30% better than a year ago.
Netflix reported third-quarter earnings on Oct. 16, posting earnings per share of $1.47 on $5.2 billion in revenue. Analysts had been expecting EPS of $1.03 and $5.2 billion in revenue. But Netflix's subscriber numbers tend to be most important for investors. It added 500,000 new U.S. subscribers and 6.3 million international users in 3Q2019-just below Wall Street estimates and its own guidance. Netflix stock rose 2.5% the following day.
Pic 3. Netflix Earnings (expectations and facts) since Sept 2018 until now.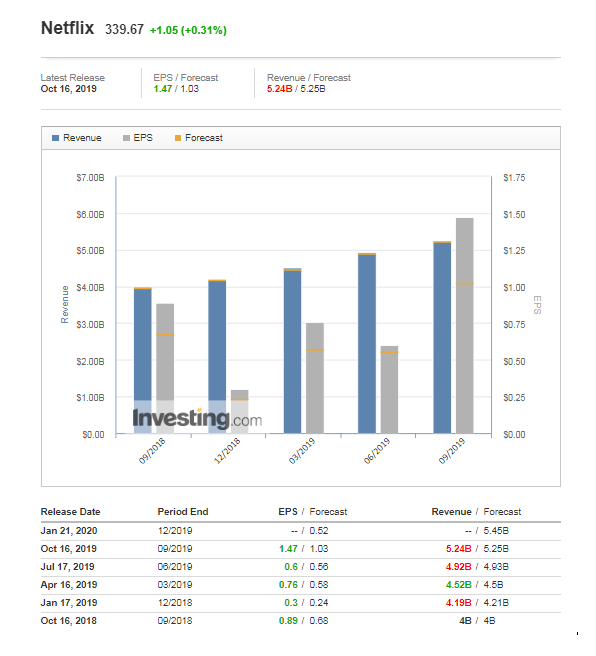 Source: Investing.com

If the actual earnings released by Netflix this Tuesday will meet the forecasts along with continuous uptrend on stock markets a possible breakthrough of $345 per share resistance "threshold" could be possibly surpassed with a potential growth to March-July 2018 highs of $380-385.
On the other hand any disappointing earnings report and corrections on the stock market could dump Netflix shares to Jan. 5 lows of $321,2 and will require a closer attention due a potential sell off or risky downside movements.
Pic 4. Netflix shares price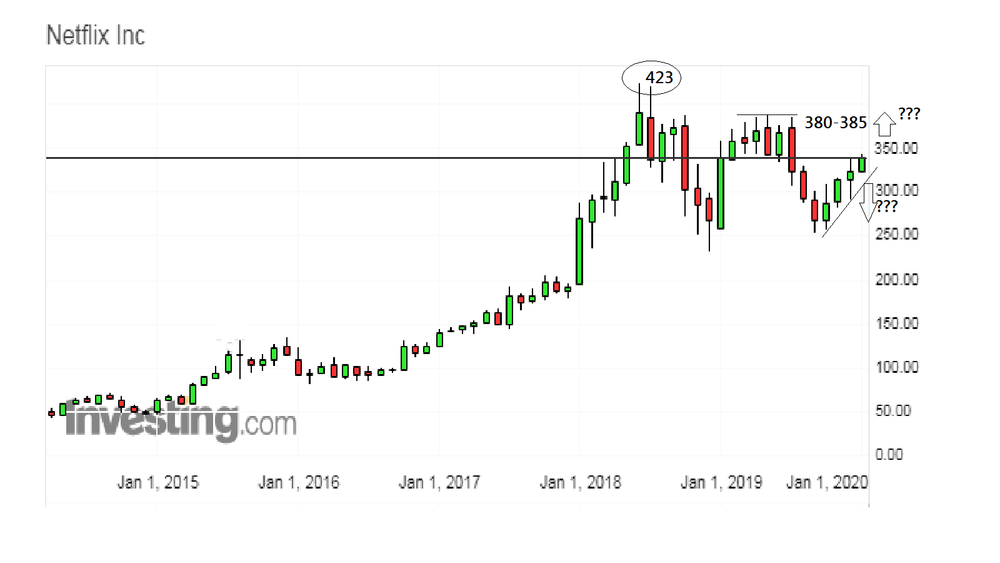 Source: Investing.com