The euro remains under pressure. Economic and political concerns in the Eurozone weigh on the euro. Inflation in the Eurozone dropped to an annual rate of -0.2% in December from 0.3% in November. That was the lowest level since October 2009.
German preliminary consumer price index also decreased to an annual rate of 0.2% in December from 0.6% in November. That was the lowest level since October 2009.
The low inflation is driven by falling oil prices. If oil prices recover, inflation in the Eurozone might be higher. But it would not be enough to boost inflation toward the European Central Bank's (ECB) 2% target. The ECB is urged to do something. Investors speculate that the European Central Bank could decide on its policy meeting on January 22 to purchase government bonds.
The European Central Bank President Mario Draghi said in a letter to a European Parliament member, Luke Ming Flanagan, yesterday that the central bank is ready to take unconventional measures if needed, including purchase of government bonds.
Political uncertainty in Greece also weighs on the euro. There is speculation that Greece could leave the Eurozone. Greeks will elect new parliament later this month. If a left-wing government wins Greek parliament elections, it may cancel austerity measures and may renegotiate Greece's debt.
German newsmagazine Der Spiegel reported this week that German government with Chancellor Angela Merkel believes if Greece leave the Eurozone, it would now be manageable. Merkel said later that she wants Greece to remain in the Eurozone.
If Greece indeed leaves the Eurozone, it will add more pressure on the European single currency. There could be risks to other countries. But it could be the best decision for Greece and the Eurozone. Greece would be bankrupt after the exit from the Eurozone but it could be a new beginning.
It would also be interesting to know what will happen to the U.S. economy if oil prices decline further or remain at low price level. The U.S. fracking companies might have problems because the fracking is costly. If one fracking company is bankrupt, other company bankruptcies may follow. And if the Fed starts to hike its interest rate, it might be another problem for these companies. If it indeed happens, we might see the next crisis.
From the technical view, the euro is likely to decline toward the low of November 2005 at 1.1637.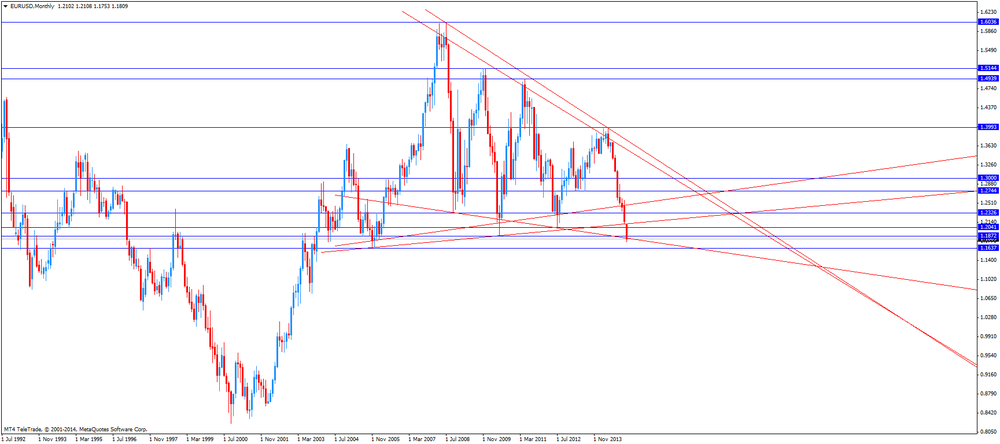 EURSUD monthly, January 09, 2015